There are some locations where a guide is almost a necessity, both for safety and his local knowledge. The Himalayan foothills, Corbett National Park, and Ramnagar Jungle of India were examples of this. Our guide, Bopanna Patada, was the ultimate guide; the equivalent of yachting with captain and cook, with all the accoutrements. He met us at the airport, rented a van and hired a driver for the week, booked us into first class accommodations, and hired local guides to assist him at each stop in northern India. This was in addition to his infectious enthusiasm and knowledge of birds of the subcontinent. In addition to his impressive birding skills he is also an excellent photographer and not shy about critiquing our techniques. He showed me a better way to hold and stabilize my telephoto lens and encouraged me to move around more often to obtain differing views of each bird.
Stephen Brigham - Maryland, USA
It is a great pleasure to recommend Mr. Bopanna Patada to anyone seeking a truly superb guide for birding and natural history in India. In January, 2017, I had the privilege of spending a sensational few days with Bopanna in the Coorg area of the Western Ghats. Our hope was to experience as many Western ghats specialty birds as we could, and I believe we found essentially every one of them thanks to Bopanna's intimate knowledge of both the birds and the landscapes of the region. Because he knows all their songs and call notes, Bopanna could immediately draw our attention to a new "target bird" even while we were searching for or studying something completely different. In this way we got terrific looks at such specialty birds as the Malabar trogon, Sri-lanks Frogmouth, Heart-spotted Woodpecker, Rufous Woodpecker, Wynaad Laughthrush, and Rufous Babbler. By knowing the timing of certain birds' daytime habits, Bopanna put us in the right places to have superb looks at Jerdon's Baza, Yellow-browed Bulbul, Blue-faced Malkoha, and Malabar Barbet. Besides benefiting from his terrific guiding skills and knowledge of the birds, we greatly enjoyed Bopanna's relaxed personality, terrific wit, and deep understanding of the history, customs, and agricultural practices of the local community. It was enormously fun to be with him, and I wholeheartedly recommend working with Bopanna Patada for anybody considering planning a birding or natural history tour in India.
John W. Fitzpatrick - Louis Agassiz Fuertes Director, Cornell Laboratory of Ornithology
I had just one day to spare for bird and animal photography whilst on a hectic business trip to Bangalore. Bopanna collected me in his 4x4 at 5.30am and we were back at my hotel at 7pm with me having photographed 71 bird species, crocodiles, spotted deer, monkeys and landscapes. Bopanna came with breakfast and lunch prepared at home to maximise our use of time. It was a perfect day as Bopanna's knowledge of local wildlife as well as photography is second to none. I could not recommend him more. He has convinced me to move to RAW processing as well as taught me some new techniques for photographing birds in flight. I really can't wait to get on with the editing as I can tell I have some great shots of many beautiful birds in good light and with good background. I think one of the plus points of his service is that he positioned me well to get good shots quickly. The safari also allowed us to cover more ground in a short time as well as using the car as a hide making it a very productive day.Thanks a lot Bopanna. I hope to do another long trip with him soon.
Sir Robin Saxby - United Kingdom
In early September 2014, I and five other public health researchers, from three countries, were privileged to do a long weekend in the Western Ghats with Bopanna Pattada as our guide. Although a few of us had been to that region before, we had never been with a birding guide, and indeed some members of the group were novices unfamiliar with any of the local avifauna. Despite this challenge, Bopanna skillfully managed to find and show us nearly 90 wonderful species during our three day tour, including several local endemics, and a few real rarities, in the beautiful forests of Coorg, his homeland in the Western Ghats. We were able to see a group of more than twenty Wynaad Laughing Thrush, the Malabar Trogon and the Sri Lanka Frogmouth. Moreover, he was especially kind to the novices, helping them to get their "bins on the bird", even in dense undergrowth. And his skill with birdsong is exceptional - he is never stumped by any sound in the forest. Above and beyond his paramount skill as a bird guide, he is a fountain of knowledge about the complex cultural and historical context of the Coorg people's settlement in the region. The small inn at which we stayed both nights was run by a charming Coorg family, who showed us the utmost hospitality and gave us a real feel for life and culture there. I have used tropical forest bird guides on five continents, and Bopanna is the best I have met -- highly recommended.
Prof John Frank - University of Edinburgh
I wanted to write a note expressing my immense pleasure with the birding outing we had on Dec. 26 from Bangalore to the Cauvery Wildlife Sanctuary. I am delighted that I found your website and booked the trip with you. Both in terms of the birding experience and bird photography, both of which are new to me, I totally enjoyed experiencing your mastery in these skills. The birds in flight photography experience was truly and once in a lifetime experience. Your talent at spotting birds is exceptional. Your knowledge of bird id's, the best locations to find them and guidance on best methods to photograph them are very impressive. The professionalism with which you conducted the day was beyond anything I have experienced during my visits to India and Bangalore. The courteous and friendly way in which you treated me was a fantastic experience. Two additional highlights that stuck with me were your enthusiasm and patience. You took the time to show me all the locations to find endemic birds, however many stops it took to achieve that. The sighthing of 84 different birds in one day is a clear testimonial of that enthusiasm. Also to note was the fact that, though the day was warm and long, you continued to take me to locations to look for nocturnal birds, such as the Owls. Regarding patience, I was very happy with your persistence in making sure I saw the birds you were sighting with your keen eyes. At times it took me a long time to catch up with you and it took a lot of hand holding by you for me to get it. This, I especially appreciated when it came to photographing them. You expertly guided the car to position me in the best angles to get a decent shot. A clear example of this patience was when we were looking for the Jungle Owlet. You guided me very deftly asking me to stand where I was likely to get the best view and kept at it till we had success. I am returning home feeling fully satsified with that day. Next time I come to Bangalore, time permitting, I will plan a longer birding outing with you for sure. I have already alerted my local friends and relatives that if they know someone with such an interest they should reach out to you and avail your expert services. Thank you for doing what you do and keep up the good work. You are unique in your skills and talents.
Venkatramesh Mylavarapu, India/USA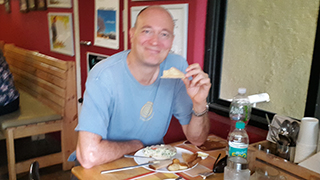 Bopanna is the real deal. I found him on the internet and had not met him before, but he took me on a lovely day out birding around Bangalore. He knows all the calls and has a detailed knowledge of the best spots. My favourite moment was visiting the owl roosting trees and 5 of them coming out to screech at us! Thanks Bopanna- best bird guide in Bangalore.
Noj Hinkins, United Kingdom
I had the opportunity after a business trip to escape the hustle of Bangalore and take 3 days in Bopanna's company in his beloved Coorg. It was a real pleasure to be guided around his local patch his knowledge of bird calls and sites was invaluable and he possesses an ability to seemingly predict the next bird species to appear. These skills allowed me to connect with all my target species and amass a species list of more than 140 species on the trip. Sri Lanka Frogmouth was a real highlight. However the success of the trip was also in allowing me to experience a different side to India, Bopanna has a great knowledge of his homeland and was adept at answering all my questions on Indian life, this is a true skill given that the traffic around Bangalore can necessitate a few hours of travelling time and this passed much easier with some lively conversation. Finally Bopanna also provides all the support needed in organising the trip,he is punctual, his vehicle was a pleasure to travel in, he can deal with any logistical or last minute changes in plan and he also provides through his photography an impressive set of images to remember the time. I look forward to another visit and more time with Bops.
Kit Britten, United Kingdom
I met up with Bopanna while on a business trip to Bangalore. I had rather limited time and so was looking to find someone who knew the local area and its birds well to make the most of the opportunity. The best birding places are rarely easy to find and this seemed especially so in India with many of the maps and descriptions I found online being very vague. Bopanna responded very promptly to my initial enquiries and sent me thorough information about the kinds of birds we'd be likely to find given the time of year and the habitats we'd be able to visit in the time. I have hired a few guides in various countries and as a sceptical birder who likes to be sure about what he's looking at, Bopanna was the perfect guide. He knows the bird calls very well but was always honest and diligent when making an identification – I have encountered guides in the past who feel obliged to tell you at first glance what something is, but Bopanna was very measured and happy to take a little more time when we found something unusual. Bopanna picked me up at 5.30 am on the Saturday and we spent two very long days birding seeing 130 species in total. Bopanna was excellent company and very conscientious of the concerns I had about needing to be careful with food and drink. We did not have time to travel as far as the Western Ghats national park, but managed to visit a great variety of habitats including wetlands, farmlands, dry scrublands and forests, seeing practically every species that one might hope to find and quite a few specialities too like the yellow-crowned woodpecker, painted spurfowl and yellow-throated bulbul, along with a few others that aren't seen so often. It was my first birding trip to India, but I had a great time and would recommend that anyone looking for a guide get in touch with Bopanna – I certainly will be when I next return. If you would like to get in touch with me directly then please just ask Bopanna for me email address and I'll be happy to share my thoughts.
Ed Champness - United Kingdom
I found myself with a free day after attending a conference in Bangalore. As a first-time visitor to India, I wanted an experienced local birding guide. At very short notice, Bopanna organised a full-day tour that made us feel lucky to have found him. He is an excellent organiser and communicator who picked us up and dropped us off right on time. While showing consideration for a non-birding colleague who joined us, Bopanna proved his expertise by guiding us to more than 80 species, including three endemics, amid some wonderful scenery. I appreciated the care he took with a couple of the more tricky identifications — only 'bluffers' are immediately certain of every bird — which included photographs for reference. Bopanna was also excellent company, with interests outside birding that ensured both birder and non-birder enjoyed a memorable day of local sights and insights. If I ever find myself back in southern India, I intend to arrange another, longer trip with Bopanna.
John Watson, The Age - Australia
I had an excellent days birding with Bopanna. He has fantastic knowledge of both the birds and and where to find them. As someone visiting from the uk it was also great to see another side of India. In total 83 species in 12 really excellent hours. I would recommend without hesitation.
Matthew Hewitt - United Kingdom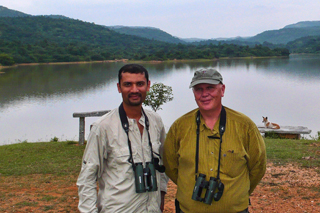 I took another business trip to Bangalore in late Feb/early March 2011, and managed to get three days to go birding again with Bopanna in the Western Ghats foothills. We stayed at a wonderful birding lodge in a shade-grown coffee plantation. This was a fantastic location with a huge number of species, and variety of bird life. In two morning's walks, we picked up around 120 species, including a number of endemics, and treats such as Malabar Hornbill, Crimson-fronted Barbet, and many Malabar Parakeets. We also had staggering views of Sri-Lankan Frogmouth at a nearby location. The sound of Elephants at night crashing through the bamboo in the forest across the river, the sky at night, and the away-from-it-all feel were the perfect foil to busy Bangalore business! Bopanna was the perfect guide and host again, with tremendous knowledge and enthusiasm, and ensured that I had an excellent time, with many new birds also, on the trip to and from Bangalore. I can't wait to get back, and share some more wonderful wildlife and scenery with Bopanna, whom I cannot recommend strongly enough to make your Southern Indian birding time very productive and most enjoyable.
Simon Lane - Chatham, NJ, USA
We want to offer our enthusiastic endorsement of Bopanna (also known as "Bops") as a birding and photography guide. We spent three days on a birding trip with Bops in December. We traveled with him from Bangalore to Nagarhole National Park and other prime birding areas in the Coorg region of Southwest. He was a superb bird guide and an outstanding photographer, and he took care of us in all ways. He arranged a stay for us at a very pleasant bed and breakfast on a coffee plantation. During the course of our trip, we saw over 120 species. Tom is an enthusiastic, although not particularly experienced, bird photographer and, with the help of Bops, he photographed about 70 species. Based on his extensive knowledge of the area, Bops guided us to locales that were known to be preferred sites for specific birds (plantations, lakes, etc.). In addition, he showed us a variety of other animals in the national park including giant tree squirrels, spotted deer, and the amazingly large water buffalo-like gaur. In all, we had a great time, both observing birds and learning about India.
Rosann & Pete Farber, USA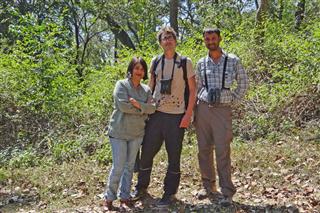 Thanks to you Bopanna for a great trip! It was the highlight of our India trip. The western ghats birding was very relaxing and Gillian and I really enjoyed seeing the elephants and the birds. Hope to see you again.
Björn & Gillian - Norway
Being an amateur photographer with interest in Birding, I was searching the web to find some guide who could take me around to show some birds in and around Bangalore. To my surprise, I met not a guide, but a Master. Bopanna is the Best when comes to wild life photography particularly birds. He knows birding sites like the back of his hand. With his thorough knowledge about birds, their different types of call and location and his skills in photography he has instilled me enthusiasm and motivation. Want to spend some quality time in leisure ….Bops is the Best. Last but not the least; you will never miss his home-made chicken sandwiches when you are touring with him.
Sundaresan Sivabalan, Chennai
My colleague Clare and I had a day in Bangalore and wanted to see as much of the local birdlife and other wildlife as possible. I came across Bopanna's website and contacted him. He suggested a day's birding around Bangalore with a trip to Nandi Hills and after lunch, to Hoskote Lake. Clare and I really fell on our feet with Bopanna! He is extremely knowledgeable, helpful and an all-round great guide - determined to show you as much of the exciting birdlife and other wildlife around Bangalore as he can. We had a great day, walking, chatting and finding out about the birdlife of Bangalore - in all we saw 68 species in the day across the two different habitats. From watching a Ring-necked Parakeet enjoying a farmer's Maize, to seeing a pond heron face-off with a snake or watching a Brahiminy Kite snatching a fish - it was a great day. So whether you are already a keen bird watcher, or just enjoy nature and getting out and about, I have no hesitation in recommending Bopanna
Graham Elliott, United Kingdom
I had planned a business trip to Bangalore and decided to stay an extra day to go birdwatching. Looking for places around Bangalore on the internet, I came across Bopanna's website with beautiful pictures and enthusiastic stories of other 'birding visitors'. I contacted Bopanna and in no time I had a proposal back from him to visit a number of areas around Bangalore. The day was absolutely fabulous. The experience of looking for birds, where every bird you see is new, is amazing. The rural landscape around Bangalore is stunning. Bopanna is a very patient and a nice guy to spend time with. He knows the birding hotspots, tailors the trip to your needs and knows his birds! I will definitely ask him again when I come over next year.
Peter Schrooyen, Rotterdam